"This is the best investment I've made in myself!"
Transform Your Body In a Way That Fits Your Busy Entrepreneur Lifestyle
Become fitter, stronger and more confident in yourself without spending hours in the gym, sacrificing your favorite foods, or missing out on precious family time. 
We've helped over

1000+ entrepreneurs

 lose weight, increase energy & feel more confident in their bodies through instilling proven systems and high amounts of accountability
-
Here are some of our transformations
"I stumbled upon you on Twitter, decided to look at one of your videos. And I said the heck with it, let's just do it. And I'm really, really happy that I did. "
Bill's Life-Changing Transformation
After discovering this program through a Twitter video, Bill decided to take the leap—and he couldn't be happier with his decision. Just a few of the remarkable results he achieved include:
Seeing his abs for the first time at age 52 (yes, 52!),
Breaking through a frustrating weight loss plateau and shedding even more pounds,
Making significant lifestyle changes, especially cutting back on alcohol, which skyrocketed his energy levels.
But that's not all. Bill's transformation extended far beyond the physical. After joining the program, he:
Abandoned the "dad bod" stereotype and fully embraced a proactive, empowered approach to health and fitness,
Developed an iron-clad discipline in his fitness routine, ensuring that every workout session was dialed in and effective,
Received an outpouring of positive feedback and validation from peers who were amazed at his transformation,
Gained valuable insights and knowledge that have enabled him to optimize his workouts, striking a perfect balance for lifelong health and fitness.
"This is the best investment I made in myself"
Neil's Journey to a Happier, Healthier Life
After joining the coaching program, Neil embarked on a transformative journey that reshaped not just his body, but his entire life. Here are the incredible changes he experienced:
Shedding over 20 pounds, a significant physical transformation that Neil could see and feel,
Sharpening his thinking and boosting his confidence to levels he'd never experienced before,
Experiencing a profound lift in his mood and overall happiness—it's not just a program, it's a whole new vibrant lifestyle for Neil,
Developing consistency in his workouts and nutrition, forming habits that are now second nature,
Feeling reinvigorated, both physically and mentally, which translated into soaring self-confidence,
Mastering the art of balancing work, family, and fitness—no small feat in today's demanding world.
"I went from 232 to around 192 in a healthy way... I was able to drop 35-40 pounds."

Joining the coaching program marked a turning point in this individual's life. Here's the remarkable journey he embarked upon:
Transitioned from drifting without accountability to embracing a structured and effective fitness routine—a complete lifestyle overhaul that brought discipline into his daily life,
Conquered the relentless cycle of fluctuating weight, finally establishing a consistent and healthy body weight that he can maintain,
Shed a staggering 35-40 pounds, hitting a weight range that he feels comfortable and confident in and having a flatter stomach
Elevated his relationship with food, gaining a deep understanding of how sugar and bad carbs were affecting his body—and making the changes necessary to sustain his new, healthier weight.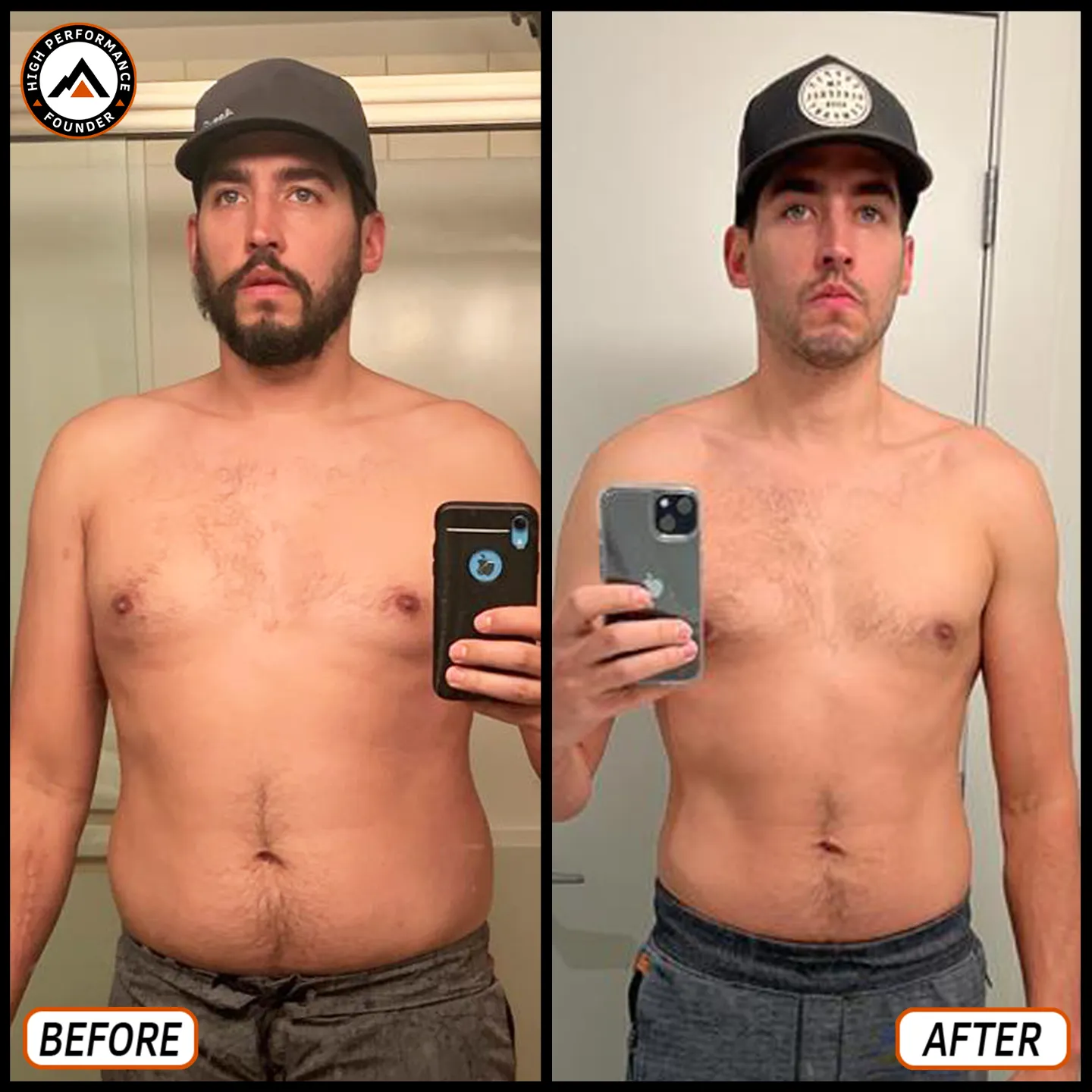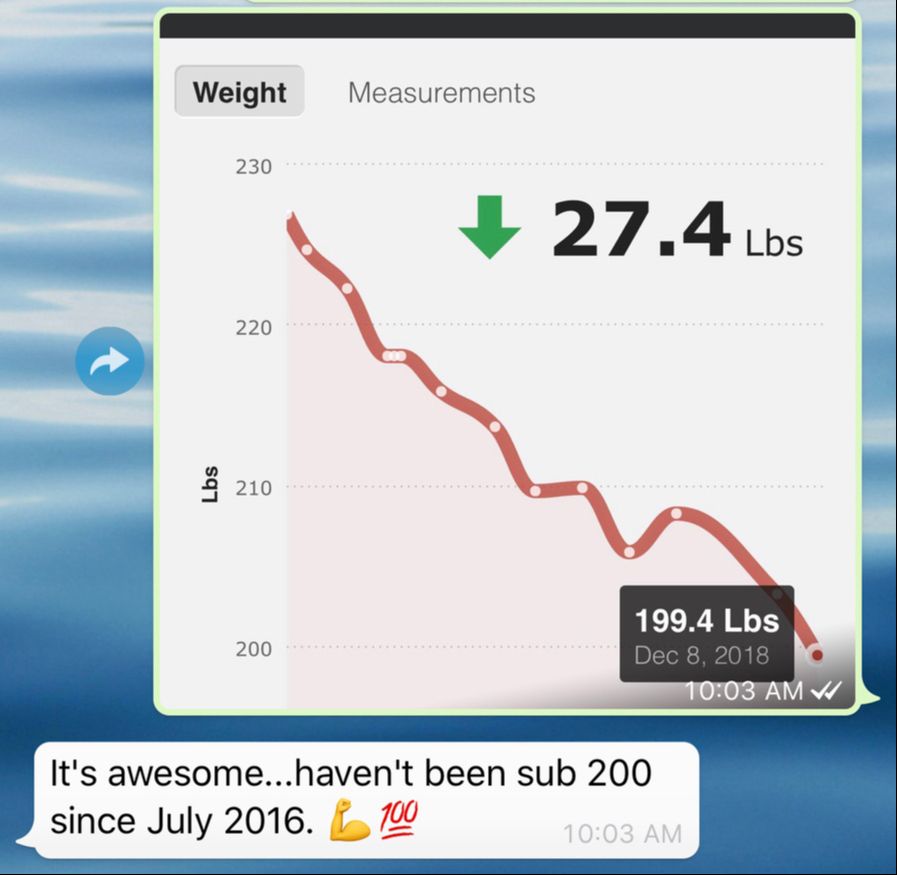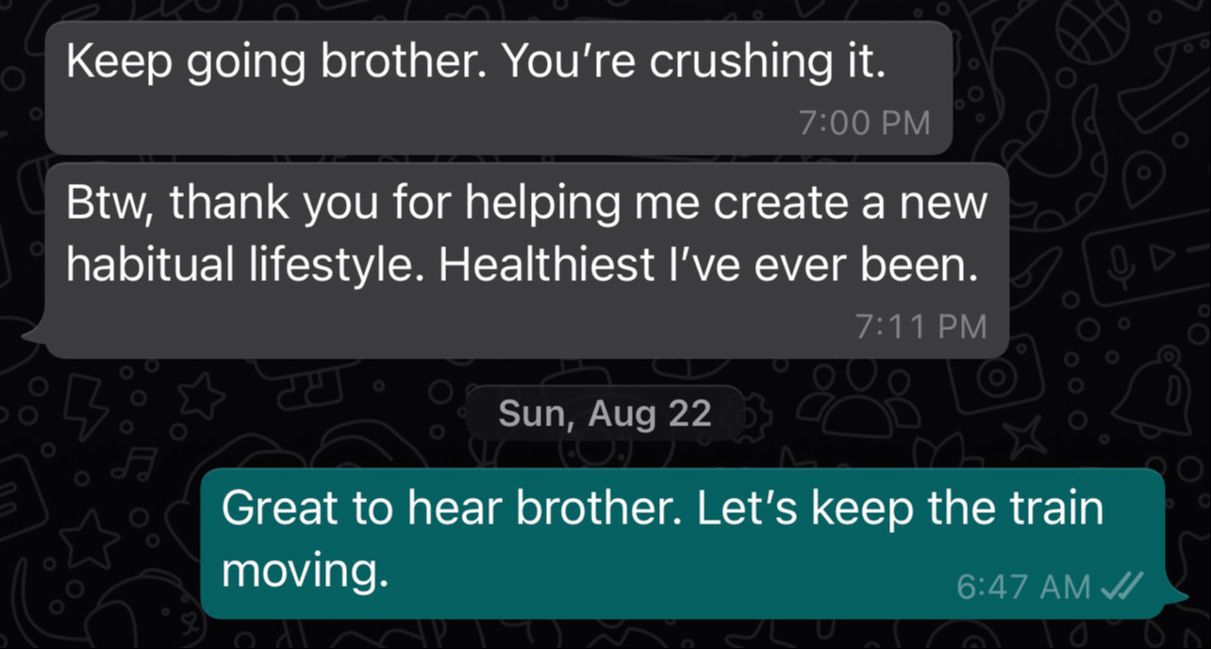 How It Works
Our program is tailored towards helping the high achieving entrepreneur. 
1 - Initial Strategy Session
Get on a call with our transformation specialists to hone in your goals, needs and lifestyle and to see if we're the right fit to work with each other.
2 - Join program
Once you join the program we'll intro you to your coach and assess where you are from a health and fitness perspective.
3 - Connect With Your Coach
You and your coach will set up a time to talk and build a gameplan that fits your goals and lifestyle. We'll put together a plan tailored to where you are to set you up for success right away.
4 - Coaching and Accountability EVERY DAY.
With our easy to use high performance fitness software we'll be working with you every day until you hit your goal. You'll get personalized expert coaching and accountability so you can make progress towards your goals. Your coach will guide you and challenge you while giving you encouragement to stick with it.
5 - Get Results
Most programs focus on workouts and nutrition but ours is different. While we help you with those we focus on what matters most, which is mindset and identity. Anyone can follow a diet and workout but mindset is where the long term results will come from.
Why Choose Us
With my hands-on approach, we'll combine cutting-edge strategies and real-world wisdom to reshape your habits, giving you the lean, energetic body you deserve, and a lifestyle you'll love to live 
Tailored Fitness & Health Coaching for Entrepreneurs
We understand the unique challenges faced by entrepreneurs—stress, lack of time, and fluctuating energy levels. Our program is designed to integrate seamlessly with your ambitious lifestyle, focusing on effective exercises, sustainable nutrition plans, and confidence-building strategies.
Address Your Specific Pain Points and Goals
Are you struggling with a lack of confidence, stubborn stomach fat, or feeling uncomfortable in your clothes? Our coaching service is explicitly tailored to tackle these issues head-on, paving the way for a more confident and comfortable you.
Revitalize Your Quality of Life
We check in with you weekly, celebrating your wins and helping you strategize the hurdles. Imagine a dedicated partner invested in your total well-being, ensuring you're not just leading in business, but thriving in life. You're steering big ships, and we're here to make sure you stay strong and steady all the way.
Expert Guidance, Every Step of the Way
You're not just another client; you're a valued member of our community. With us, you will have a dedicated coach by your side 24/7, keeping you accountable, answering your questions, and providing personalized advice based on 100+ successful client transformations.
The High Performer Approach Is NOT For Everyone.
Our Coaching Program is For:
✅Entrepreneurs
Our programs specializes in helping entrepreneurs & high performers. Our systems are designed to fit into an entrepreneur's busy schedule.
✅People who are willing to invest in their health & well-being:
This is a program for men and women who are willing to invest their time, money, and effort into their health and well-being
✅People who take responsibility for their actions and implement what they learn:
We are guiding you through the path of becoming a leaner, more confident version of you, 
You must be willing to roll up your sleeves and put in the work.
If you're ready to make a long-lasting change to your overall health and well-being program is for you.
✅Busy professionals who are committed to making a long-lasting change:
Building the physique and energy levels you desire isn't going to happen overnight,
This program is for men who are committed to putting in the work consistently for the next 90 days,
There's no "magic pill" or "fat melting hack" here,
Our system is designed to keep the weight off for good. 
Our Coaching Program is NOT For:
❌College students or young professionals:
Our program does not cater to the younger generation and will not be effective for those who aren't entrepreneurs.
 ❌ Penny Pinchers:
This is not the cheapest program out there but it is the best program for entrepreneurs and CEOs.
If you're not willing to invest the time, money, and energy to reach your goals this is not the program for you.
❌ People who point fingers and make excuses:
This is not for people who blame others and refuse to take responsibility for their own actions.
If you're the type of person who refuses to accept constructive criticism, this program isn't for you.
 ❌ People looking for the "Magic pill" or "secret hack":
If you're not committed to putting in the work and constantly looking for quick fixes this won't work for you.
No judgment, but I only work with action-takers who are ready to put in the work and get long term results.


More Amazing Transformations
Kris lost over 33 lbs in just 12 weeks, trimmed 7 inches off his waist, and crafted a sustainable routine.
After joining the program, Kris experienced a transformation — he shed a remarkable 33 lbs in just 12 weeks and sculpted a slimmer, more defined waistline by cutting 7 inches.
But that isn't the best part. The newfound routine that Kris developed wasn't just about the physical changes.
Now, when Kris gets home, he isn't drained or worn out. Instead, he has more energy than ever, and he joyfully spends this energy where it matters most — playing with his kids.
Daniel lost 34.3 lbs in just 16 weeks, reduced his waist by 6 inches, and recharged his energy levels, despite having tried every fad diet in the book before.
After joining the program (and diligently sticking to the new regimen), Daniel saw phenomenal changes — he lost an impressive 34.3 lbs in just 16 weeks, sculpted a slimmer waist by shedding 6 inches, and revitalized his energy levels.
But that isn't the best part. Since his transformation, not only has his health improved, but his personal and professional life has reached new heights as well.
Daniel, now energized and confident, managed to double his income. And as his health and self-assurance bloomed, so did love. Shortly after his transformation, Daniel celebrated another significant milestone — he got married!
Sue, a high-achieving lawyer, was working intense 60-hour weeks and tipped the scales at 220 lbs.
After joining the program and fully committing to the transformation, Sue remarkably went from 220 lbs to sporting a set of toned abs.
But that isn't the best part. Now, she is bursting with so much energy that she finds herself wondering what to do with all of it.
The plan was surprisingly simple and manageable, even with her demanding career. It involved a balanced diet, which, to her delight, included carbs, paired with a focused workout routine of strength training three times a week.
Paul, a successful entrepreneur, was incredibly frustrated with his physique.
He loathed the idea of taking his shirt off in front of others, despite his accomplishments in the business world. His business was thriving, but his body was not.
Determined to make a change, Paul went all out. In just 16 weeks with the program, he transformed himself into the best shape of his life.
But that isn't the best part. Now, with his newfound confidence and toned physique, he eagerly looks forward to the next chance he gets to take off his shirt at the pool, proud of the work he's done and the body he's sculpted.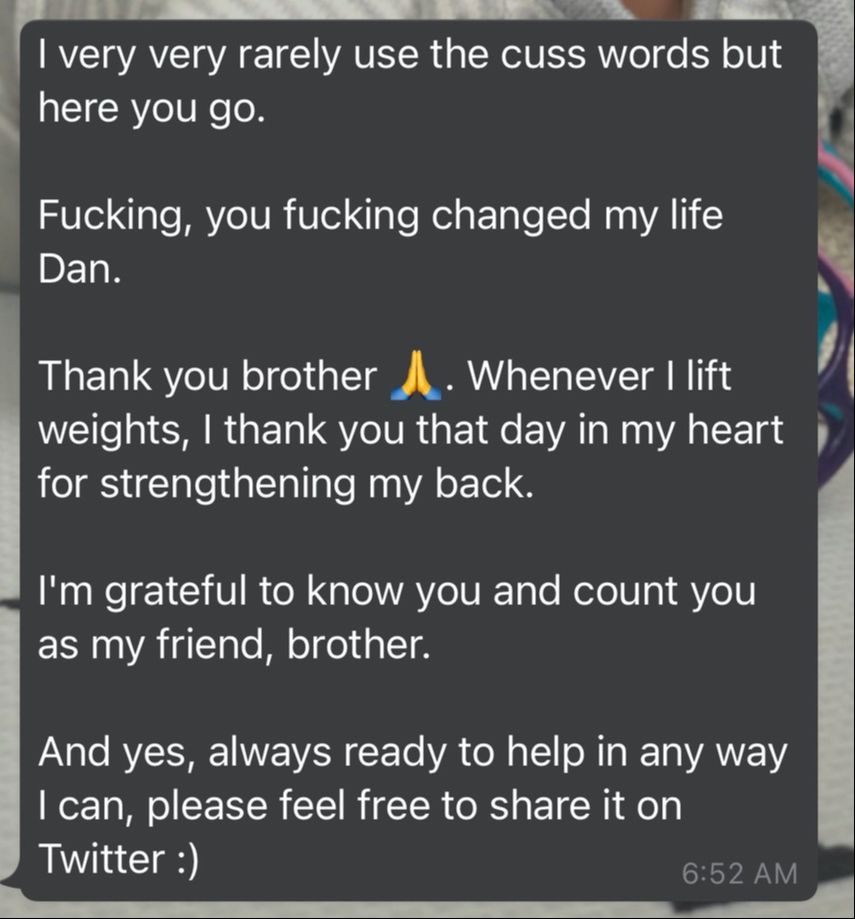 Frequently Asked Questions
What if I don't have access to a gym or equipment?
I've been a part of other programs and didn't get results. How do I know this will work?
What does the program cost?
How much time will I need to dedicate to this daily, and how will it fit into my already busy schedule?
What's the difference between you and a personal trainer?
How do I know if I'm ready to join your program? I feel I may be too busy with my kids, family, work, etc...
How is this program different from others??
How can I trust that what worked for you or others will be applicable to my unique circumstances
How do you help me personally?